Our Products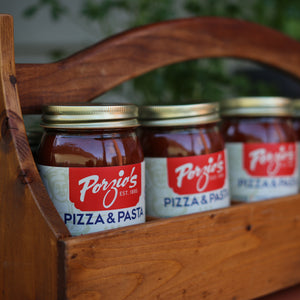 Pizza + Pasta Sauce
Our sauce balances a natural sweetness with a subtle peppery kick that will keep you wanting more!
Basil Pesto
We combine herb infused olive oils with our signature roasted garlic and fresh basil to create vibrant flavors to pair with any dish!
In 1895, John D. Porzio I, stowed away on a ship from Naples, Italy, at the age of 14. He landed at the Port of Savannah and started establishing his roots. He began working at a seafood dock called Aprea's Seafood, where he fell in love with the owner's daughter, Anna Aprea, from Charleston. It was the ultimate love story. Years later, their descendants opened Porzio's Restaurant, the first pizzeria in the area, which was passed down through the Porzio generations until it's close in 1969. It became a neighborhood favorite, and the Porzio family became well known in the Savannah community. To this day, we meet patrons of the restaurant who look back fondly on memories of spending time there with their family, friends, and high school sweethearts.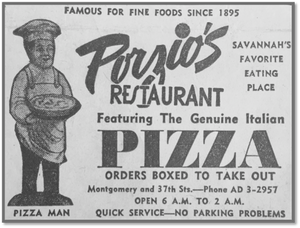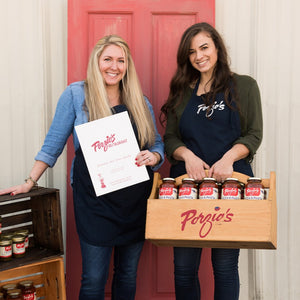 The newest chapter of our story begins with Maureen Porzio, the great- great-grandaughter of John D. Porzio I. She had grown up making the family's sauce with her dad and grandfather and she decided she wanted to bottle it up for others to enjoy. In 2011, her grandfather, John Porzio IV, gave her his blessing to pursue her passion to revive the family recipes during his final hours. She spent the next year perfecting the bottling process while also studying at the College of Charleston. It was during this time at the College that she met Kaitlyn Ervin, who would first become an intern and eventually a full-time partner. Together, Maureen and Kaitlyn expanded both the product line (check out our delicious basil pestos) and distribution footprint (now available in retailers throughout the Southeast). 
Our ultimate goal is to create a social enterprise that allows us to provide our customers with delicious, high quality products while simultaneously supporting our community and feeding the hungry. To aid in this endeavor, we created a program called Spread The Love where we donate a meal for every jar sold. It's been a rewarding program that has made us so thankful for all the wonderful customers and retailers that support our passion and keep us moving forward.